▾

Awards:

3
Awards Given:
Inspiration by Tolme0 06.17.11 ExistentiARTism
Aesthetics by Tolme0 06.17.11 ExistentiARTism
Inspiration by Marianna 06.22.11 ExistentiARTism
238/265
MIKULÁŠ MEDEK - THE PAINTER OF METAPHYSICAL TRANSFORMATION OF PAIN
Mikuláš Medek (November 3, 1926, Prague - August 23, 1974, Prague) was a Czech painter, whose originality of expression, depth and spirituality of his remarkable works, stand as the most prominent examples of Czech post-war art. His artistic independence and spiritual dimensions were finely expressed, even during the Communist regime in this country, at a time of implacable hostility towards modern art and free thinking.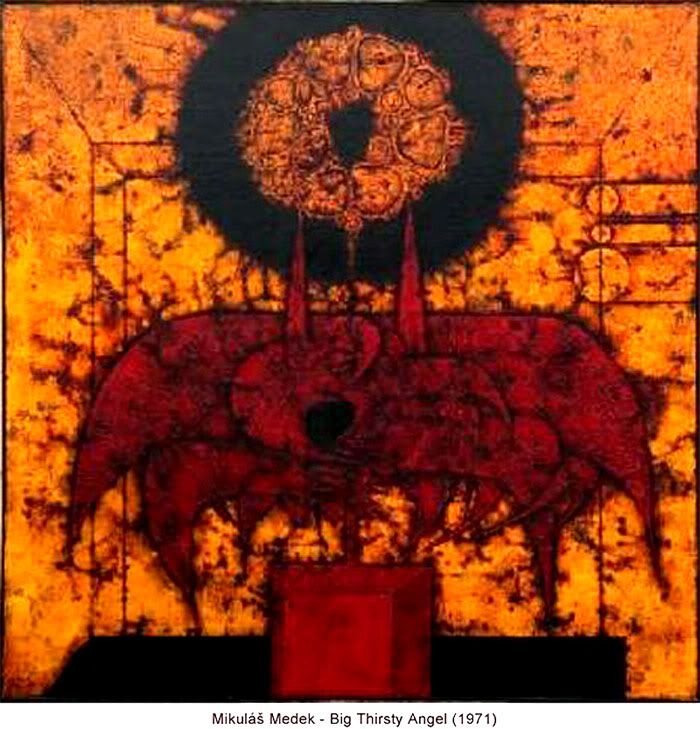 Medek's artistic heritage can be divided into three basic periods. He was initially influenced by the tradition of Surrealism. This phase represents the time of searching for his own specific artistic view on the world and authentic expression.

The second phase began in 1952 during a time of heavy and brutal political repression, causing a general paralysis in all aspects of society. During this time, he started to pay closer attention to intentionally simplified realistic figure, while not completely leaving behind his surrealistic language. In those works, obvious portrayals exert their range around the existential crisis of man. Figures in a space of a simulated optimistic world-view , the schizophrenic nature of humanity which hides its authentic face with fear, pretends loyalty to the system and - loosing inner strength - gives up to the power and the comfort of self-lobotomy. Some of his work displays playful, yet sinister illustrative character, like comics about the tragedy of human decay. Showing to us the totalitarian environment, which advently restricted and manipulated individuality as yet another object to be discarded. That period of Medek's work is timeless statement, the apprehension of materialistic descent of human society, which also speaks to the contemporary consumer world with its false illusion of free choice.

In the turn of the 50s and 60s, the most important period of Medek's creative work truly takes form. During this phase, he turned the human mind inside-out, focusing on abstract painting. Structural dialogues between the macroscopic and microscopic world in metaphorical meaning, vividly depict fundamental questions of human life, supported by impassioned and mysetrious darkness of colours, and supported by utilizing geometric principles, special materials and innovative techniques with emulsion painting. This resulted in the so-called "preparad images" of colored materials, arranged in the form of printed symbols. The mystic atmosphere of the whole is admirable and deeply submersible into undiscovered spiritual dimensions, as well as immense and overwhelming torment of the mind. Paying attention to certain details, one is exposed to representations of small painful dramas inside highly articulate structures, reminding of ruptured vessels, violent intervention in tissue, various local "cell" incidents and symbols of mechanisms of physiological or patophysiological functions, as some silent screams of physical suffering. Medek's works are metaphysical transformations of pain which are both passionate and calm, but ultimately a confrontational dialogue between inner and transdimensional space. 

Medek's work has become, thanks to its lack of exhibitional tours and a relatively low public profile, a role model for younger radical artists. After 1960, Medek gained some public exposure, with his most recognized work standing as an altarpiece in the church Jedovnice (1963),

as well as composition made for the interior offices of Czechoslovakian Airlines in Damascus, Kosice (1963), Paris (1964), Prague-Ruzyne (1969) and New York (1970). The first exhibiton of his paintings was installed in the late eighties in a local gallery in Roudnice near Prague, without any media recognition. The first full exhibition was realised only in the beginning of 21st century in Prague gallery Rudolphinum. Medek's works are largely owned by either renowned galleries (eg. Sydney, New York, Amsterdam, Rotterdam, Hamburg, Bochum, Bratislava, Skopje, etc.) or are in private collections.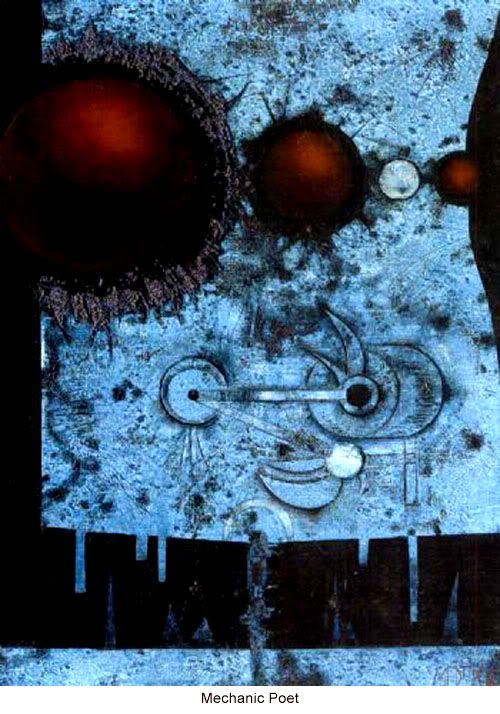 Medek created an original symbolic sign system, with special shapes and colour language as metaphors for human existence in its tragic, picturesque and painful reality, but intensely thirsting for transubstantial, meaningful dimensions and deeply compelling about catharsis in the sense of faith´s mystery. Intense emotional mystical expression, internal consistency and authenticity of the message, the magical power and spiritual energy radiating from his paintings, represent one of the most important and most original personalities of not only Czech, but also 20th Century painters.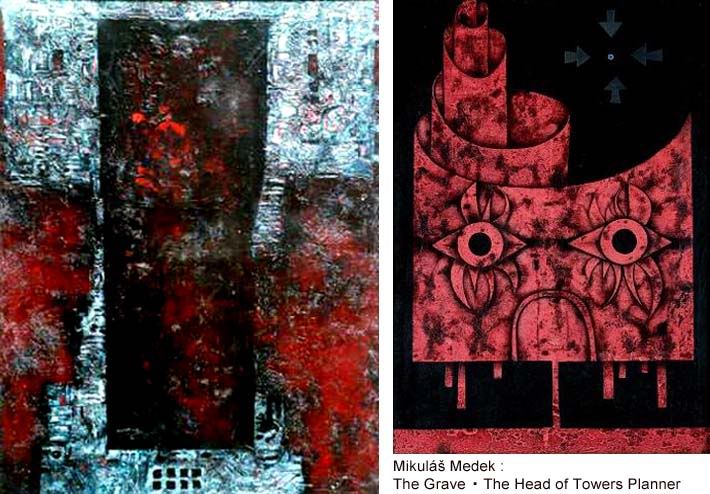 From 1962, Medek suffered from a severe form of diabetes, which was the cause of his subsequent osteoporosis and general body weakness. His state of health escalated very quickly also thanks to continuous heavy psychological problems. He died relatively young at the age of 47 in Prague in August 1974 from complications associated with diabetes.
                                                                                 Vladimír Hirsch (March 2004, rewritten June 2011)
The head, sleeping an imperialistic dream (existential surrealism of the fifties)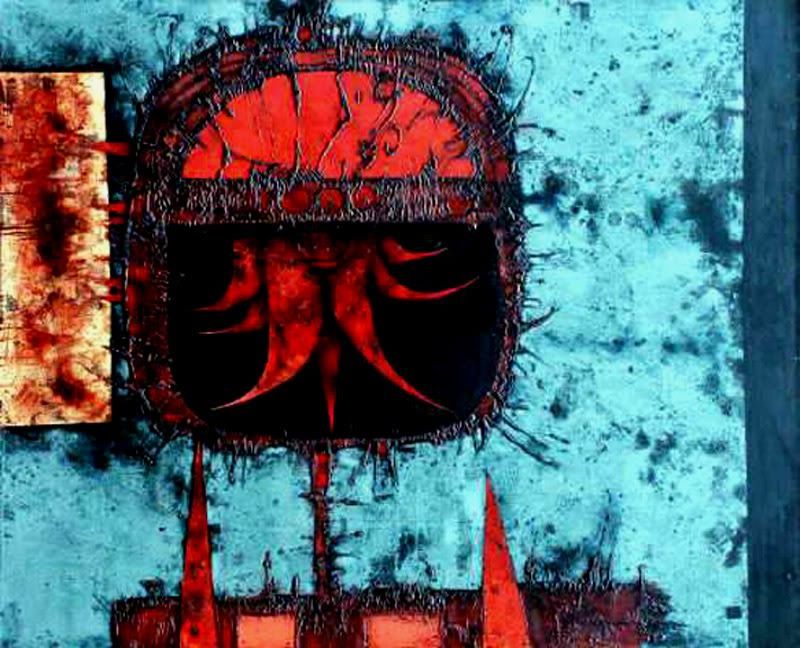 The last dream of the Great Alcohol (1967)
Also appears in:
Join Culture
Would you like to join "Culture"?

Culture
can submit immediately
editors and members can submit